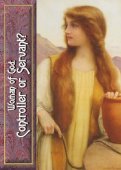 WOMAN OF GOD: Controller or Servant?
by Beverly Bradley -- 4-CD set / DVD
4-disc CD set $28 WOG
2-disc DVD set $39 WOV
(Free syllabus available on download page)

Many women work hard caring for their families, yet find themselves discouraged when those they serve neither share their vision nor participate with their plans. In this presentation Bev examines the lives of 6 biblical women, to expose the difference between serving others and exhausting oneself controlling them.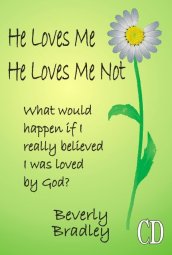 He Loves Me...He Loves Me Not: What would happened if I really believed I was loved by God?
Five-CD set by Beverly Bradley $33 HLM
(Previously titled "The Greatest of These is Love")
Too few people understand the power of God's love. Doctrinally, they know God loves them, but they do not enjoy what it means to be empowered by that love. The Christian life for them is therefore excessively difficult, and may be hampered by fear, uncertainty, and challenging relationships. In this series Beverly reveals how knowing the love of God produces changed hearts and changed lives.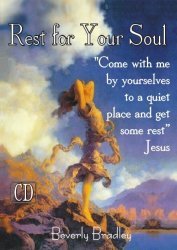 Rest For Your Soul
Going with Jesus to get some rest
Three-CD set by Beverly Bradley $21 RFY
With all the demands of marriage, motherhood, housework, and church life, not to mention keeping up with social networking and email, it is amazing that any woman is still on her feet at the end of the day. Physical and emotional reserves are depleted long before the day is through, but each morning she must wake up and do it all again. Our God knows the human need for rest, and in this fast-paced, hectic life too many women believe they need "permission" to stop and rest, but the Lord doesn't just permit it -- He insists on it. "Come with me by yourselves to a quiet place and get some rest." (Mark 6:31). Listen to this 3-part series and walk with Beverly as she follows the Lord into a beautiful place of rest for your body, heart, and soul.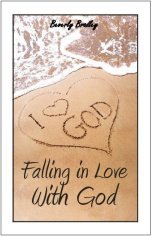 Falling in Love With God
Four-CD set by Beverly Bradley $28 FIL
Many believers today do not enjoy a great love for God in their hearts. They appreciate Him for what He has done, so they are faithful to Christ, but their walks are characterized by obligation and duty. Without passion, marriage relationships become dry and lifeless. So also, without passion our relationship with God will lack the vitality and life enjoyed by people in love. God is the most lovable being who has ever existed. If we are not in love with Him, it is because we don't know Him well enough. King David knew God, and as a musician he sang about what made Him beautiful. In this series Beverly looks at David's music to discover why he was so enamored with God. She also examines some of the classic hymns to reveal what it was about God that inspired their writers. If you want to fall in love with God, this series is for you.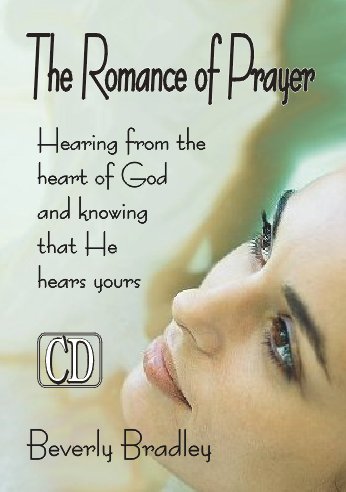 The Romance of Prayer
Hearing the Heart of God and knowing that He hears yours
Five-CD set by Beverly Bradley $33 ROP
(Previously titled "Lord, Teach Us to Pray")

In this series Beverly examines the "Lord's Prayer" and points women to Jesus as their inspiration for faith. Listeners will discover that powerful prayer results not from personal discipline, but from seeing a powerful, compassionate God. May all who listen fall in love with God and watch their prayer life transform.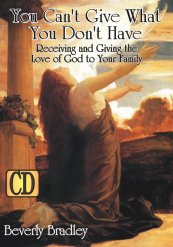 YOU CAN'T GIVE WHAT YOU DON'T HAVE:
Receiving and Giving the Love of God to Your Family
Three-CD set by Beverly Bradley $21 YCG
Many women pour themselves out for their families, but feel they are running on empty. In this series Beverly discusses how to embrace the grace of God in your life, so that you have an abundance to give your family.
The 3 sessions include:
1. Looking Straight Into the Eyes of God
2. Hungry for the Hearts of My Children
3. Dancing in the Storms: Strengthening Family Love When Life is Hard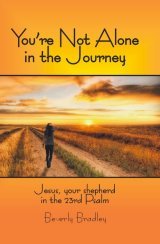 You're Not Alone in the Journey:
Jesus, your shepherd in the 23rd Psalm
Four-CD set by Beverly Bradley $28 YNA
(Previously titled "Held in the Arms of the Good Shepherd")

In these 4 sessions Beverly walks women through the beauty and power inherent in Psalm 23. Listen and discover what it means to be shepherded by God. Find out how to lie down in His green pastures and enjoy rest for your soul. Hear how to enjoy God's safety and security when faced with life's challenges and opposition from those who hate you. Many attending the conference at which these messages were recorded testified that they experienced not just a mountain top high, but lasting heart change.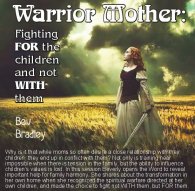 WARRIOR MOTHER: Fighting FOR the kids and not WITH them by Bev Bradley
Single CD $7 DVD- $15

Why is it that while moms so often desire a close relationship with their children, they end up in conflict with them? Not only is homeschooling near impossible when there is tension in the family, but the ability to influence children's values is lost. In this session Beverly opens the Word to reveal important help for family harmony. She shares about the transformation in her own home when she recognized the spiritual warfare directed at her own children, and made the choice to fight not WITH them, but FOR them.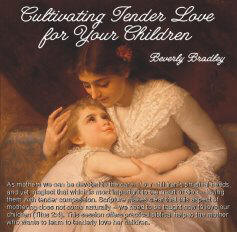 Cultivating Tender Love for Your Children
by Bev Bradley
Single CD $7 DVD- $15

As mothers we can be devoted to the care of our children's physical needs, and yet, neglect that which is most important to the heart of God -- loving them with tender compassion. Scripture makes clear that this aspect of mothering does not come naturally -- we need to be taught how to love our children (Titus 2:4). This session offers practical biblical help to the mother who wants to learn to tenderly love her children.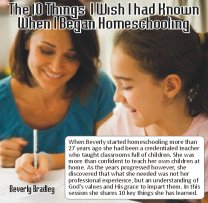 The 10 Things I Wish I had Known When I Began Homeschooling 1 CD by Beverly Bradley $7
When Beverly started homeschooling more than 25 years ago she had been a credentialed teacher who taught classrooms full of children, and so felt confident to teach her own children at home. As the years progressed however, she discovered that her professional experience wasn't what she needed to influence her children; it was an understanding of God's values and His grace to impart them. Novice and veteran homeschoolers will want to hear this session.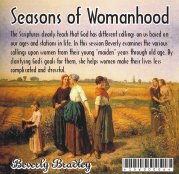 Seasons of Womanhood by Beverly Bradley
1 CD

In an age when the world is seducing women with its unbiblical ideas about a woman's identity and her calling in life, it is critical that Christian women understand God's calling on them. God has for each of us a unique purpose based on our age and station in life, and in this session, Beverly takes an uncompromising look at the Scriptures to discover God's beautiful plans for women in each of their seasons in life. She will look at three seasons: the season of being a young maiden, a wife and mother, and an older woman. $7
Keeper of the Home by Beverly Bradley
1 CD
Many Christian women have difficulty balancing their duties to husband, children, and ministries. They struggle to be a combination of the "Titus 2" and the "Proverbs 31 Woman," yet feel like they barely survive each day. They are sure that the "Proverbs 31 Woman" could not have home-schooled her kids. This workshop offers solid biblical direction to those women who want to understand their biblical responsibilities as wife, mother, and home school teacher. A truly inspiring look at the high calling of Christian womanhood as presented in Titus 2:4-5. $7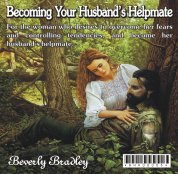 Becoming Your Husband's Helpmate: Following the Leader Through Good and Bad by Bev Bradley Single CD $7 DVD- $15
Drawing from the Scriptures and lessons learned from her own struggles as a wife, Beverly offers help balancing obligations to one's husband and children. This workshop is for the woman who desires to overcome her fears and controlling tendencies, and become her husband's "helpmate." It is also invaluable for the wife who wants to learn to follow the leadership of a husband who doesn't seem to be going anywhere. $7
Overcoming the Distractions of Motherhood -- Keeping Priorities in Focus.
by Beverly Bradley -- 1 CD
Many moms are overwhelmed by how much must be accomplished each day. As their days become filled with frustration, they find themselves distracted and driven to accomplish unattainable goals. This session holds practical insights for those who want to keep themselves and their children focused upon the goals that God has for them. Peace & freedom from anxiety await those who have set their priorities biblically. $7

Loving and Teaching the Difficult Child by Beverly Bradley
1 CD
Teaching children at home is no simple task, but with some children it is more difficult than with others. This workshop is for the mom who has one type of particularly challenging child -- some would call him or her "A.D.D." These children are inattentive, highly distractible, fidgety, and impulsive. They fail to pick up social cues and have difficulty keeping friends. They are especially challenging, because they are disruptive to the education of their brothers ands sisters. These children receive excessive attention, but they often feel our anger and ultimately, our rejection. From her own experience, and with wisdom from God's Word, Beverly helps parents find a practical plan for loving and teaching difficult children. $7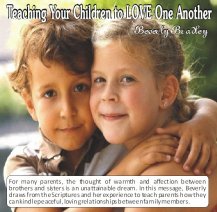 Teaching Your Children to LOVE One Another
by Beverly Bradley 1 CD
For many parents, the thought of warmth and affection between brothers and sisters is an unattainable dream. In this message, Beverly draws from the Scriptures and experience to teach parents how they can kindle peaceful, loving relationships between family members.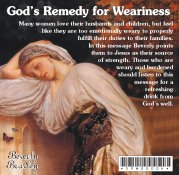 God's Remedy for Weariness
by Beverly Bradley -- 1 CD

Many women love their husbands and children, but feel like they are too emotionally weary to properly fulfill their duties to their families. In this message Beverly points them to Jesus as their source of strength. Those who are weary and burdened should listen to this message for a refreshing drink from God's well. $7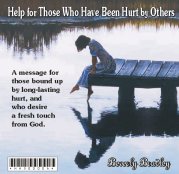 Help for Those Who Have Been Hurt by Others
by Beverly Bradley -- 1 CD.

A message for those bound up by long-lasting hurt,
and who desire a fresh touch from God. $7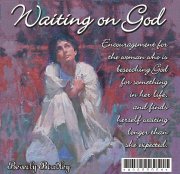 Waiting on God
by Beverly Bradley – 1 CD
Encouragement for the woman who is beseeching God
for something in her life, and finds herself waiting longer
than she expected. $7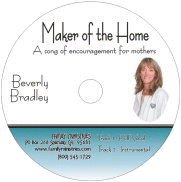 Maker of the Home by Beverly Bradley -- song - CD

A song of encouragement for the mom who needs to hear, "Well done!" Like many, you may find this song such a blessing that you will want to order extras as gifts. We recommend listening with Kleenex at hand. Track 2 has instrumental accompaniment. $6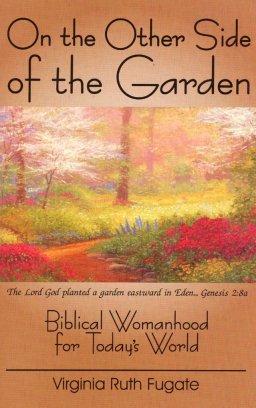 On the Other Side of the Garden
Biblical Womanhood for Today's World
by Virginia Fugate
This book is being used by hundreds of womanhood classes around the country every year with miraculous results -- feminists are being converted to Biblical womanhood and women who thought they were already living Biblically are being challenged. All women who desire to live Biblically are gaining stability and encouragement. Even couples' classes have produced unbelievable results for women and men. -- $12.00
Also available in Spanish -- $12.00
On the Other Side of the Garden Workbook
by Virginia Fugate

Written to believers and unbelievers alike, this workbook is a helpful tool either for small groups or for a mother and her teenage daughter. $15.00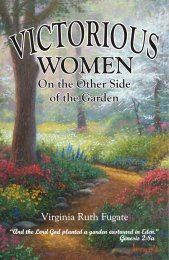 VICTORIOUS WOMEN On the Other Side of the Garden
by Virginia Fugate -- book
is the long-awaited sequel to Virginia's popular women's book, On the Other Side of the Garden – Biblical Womanhood for Today's World. Most of its chapters are based on letters she has received since the release of her first book. Women wrote to share how God had changed their lives through Biblical womanhood. Virginia soon realized that the victories, struggles, and questions expressed must be shared with others. She believes the joy over what God has accomplished in the lives of these ladies will inspire others to look to Him for the victory in their own lives.
A few of the subjects addressed in this book are:
The secret to Biblical womanhood – trust in God

How not to be affected by your husband's moods

A woman's words – uplifting or undermining

The super-woman syndrome

Victory over financial worries

Dealing with unfaithfulness and the victory of forgiveness

$11.00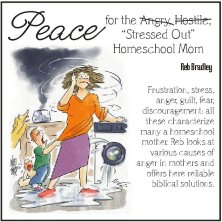 Peace for the Angry Hostile Frustrated "Stressed-Out' Homeschool Mom -- by Reb Bradley (1 CD)
Frustration, stress, anger, guilt, fear, discouragement -- all these characterize many a home school mother. Reb looks at various causes of anger in mothers and offers reliable biblical solutions. $7