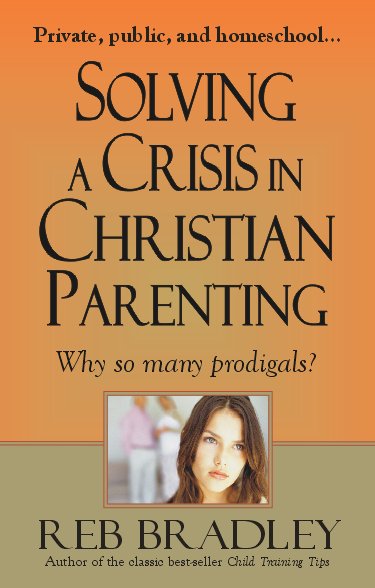 Private, public, and homeschool...
Solving A Crisis in Christian Parenting
Why so many prodigals?
96-page book by Reb Bradley $9 SCH

Multitudes of Christian parents, including veteran homeschoolers, have graduated their first batch of kids, only to watch their graduates go wayward. Statistics indicate it is happening at a higher rate than ever before. Many were model children while growing up, but sometime near their 18th birthday they began to reveal that they didn't hold to their parents' values. In this book Reb exposes blind spots in parenting that breakdown relationship between parents and children, and thereby increase prodigal tendencies. Every dedicated parent needs to read this book.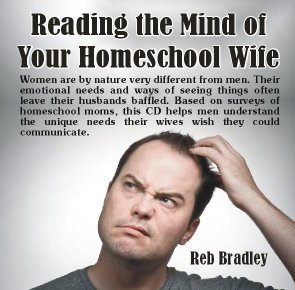 FOR MEN: Reading the Mind of Your Home School Wife -- (1 CD)
Women are by nature very different from men. Their emotional needs and ways of seeing things often leave their husbands baffled. This tape helps men understand the unique needs home school moms wish they could communicate. $7

The 10 Things I Wish I had Known When I Began Homeschooling Single CD by Beverly Bradley $7
When Beverly started homeschooling more than 25 years ago she had been a credentialed teacher who taught classrooms full of children, and so felt confident to teach her own children at home. As the years progressed however, she discovered that her professional experience wasn't what she needed to influence her children; it was an understanding of God's values and His grace to impart them. Novice and veteran homeschoolers will want to hear this session.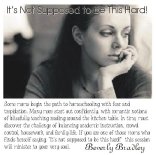 HOMESCHOOLING: It's Not Supposed to be This hard
Single CD by Bev Bradley $7
Some moms begin the path to homeschooling with fear and trepidation. Many more start out confidently, with romantic notions of blissfully teaching reading around the kitchen table. In time, most discover the challenge of balancing academic instruction, crowd control, housework, and family life. If you are one of those moms who finds herself saying, "It's not supposed to be this hard!" this session will minister to your very soul.

Peace for the Angry Hostile Frustrated "Stressed-Out" Homeschool Mom -- (1 CD) by Reb Bradley $7
Frustration, stress, anger, guilt, fear, discouragement -- all these characterize many a home school mother. Reb looks at various causes of anger in mothers and offers reliable biblical solutions. $7

Avoiding the Home School "Cult" Mentality -- (1 cassette tape)
Many in the home school community find themselves alienated from fellow Christians who do not home school their children. Offered on this tape are the warning signs and solutions for the home school parent who is on the slippery slope of legalism and "exclusivism" in regards to home schooling. $7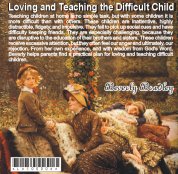 Loving and Teaching the Difficult Child by Beverly Bradley
1 CD
Teaching children at home is no simple task, but with some children it is more difficult than with others. This workshop is for the mom who has one type of particularly challenging child -- some would call him or her "A.D.D." These children are inattentive, highly distractible, fidgety, and impulsive. They fail to pick up social cues and have difficulty keeping friends. They are especially challenging, because they are disruptive to the education of their brothers ands sisters. These children receive excessive attention, but they often feel our anger and ultimately, our rejection. From her own experience, and with wisdom from God's Word, Beverly helps parents find a practical plan for loving and teaching difficult children. $7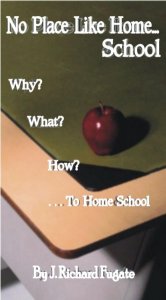 No Place Like Home School
6-tape set by Rick Fugate
Rick Fugate is one the foremost speakers on parenting and home schooling in the country. This set consists of six of his best keynote addresses given at state home school conferences. These messages are invaluable for all parents, whether home school veterans or just considering home schooling. (11oz.) $42