Here's two new CD sets from Beverly: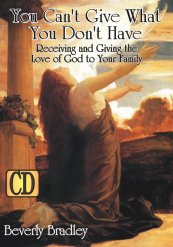 YOU CAN'T GIVE WHAT YOU DON'T HAVE: Receiving and Giving the Love of God to Your Family
3-disc CD set by Beverly Bradley $21.00
Three sessions include:
1. You Can't Give What You Don't Have: Looking Straight Into the Eyes of God
2. Hungry for the Hearts of My Children
3. Dancing in the Storms: Strengthening Family Love When Life is Hard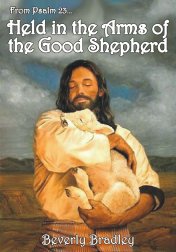 Held in the Arms of the Good Shepherd
(Formerly titled Reflection, Refreshment, & Renewal from Psalm 23)
4-disc CD set by Beverly Bradley $28.00
Beverly walks women through the beauty and power in Psalm 23. Listen and discover what it means to be shepherded by God. Find out how to lie down in His green pastures and enjoy rest for your soul when faced with life's challenges. Many have testified of lasting heart change.